Take our #1 cryptocurrency course to get the most out of your trading. Get started for free!
An Introduction to Tron (TRX)
September of 2017 saw a non-profit organization based out of Singapore, named the Tron Foundation, found the Tron cryptocurrency.
Justin Sun, Tron's CEO, heads the organization—which also boasts an in-house development team that's brimming with top industry talent.
Tron is a network, and its proprietary cryptocurrency is referred to as Tronix (TRX).
The blockchain-based decentralized platform is intent on constructing a free, global digital content entertainment system. Not only does Tron's network possess distributed storage technology, but it also allows for the seamless and cost-efficient sharing of digital content.
The Current Price of TRX/USD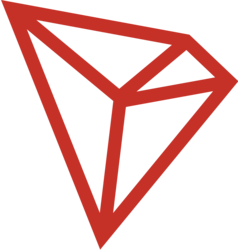 TRON (TRX)
Price
Mitigating the Middleman 
Tron leverages standard blockchain and peer-to-peer network technology with the expressed purposes of removing obstacles between content creators and consumers.
How do they close the gap between creators and consumers? By removing the intermediary or middleman from the process.
As such, consumers will experience a reduction in cost. While content producers will enjoy an improved collection process via direct receipts.
To provide some context, let's examine an analogy that compares Netflix with Tron:
Netflix is a singular organization that offers distinctly centralized, on-demand digital entertainment services and content. Users must subscribe and pay the fee to watch exciting or engaging content hosted by the platform.
All users must pay an incremental fee, of which Netflix takes a sizeable cut and then pays out to the contents' creators/producers. In many cases, the bulk of the money ends up in the pockets of the middleman, or host.
With Tron, the Netflix business model is mirrored—but on a public blockchain network. Essentially, Tron is a decentralized storage space that streamlines the process and makes it more financially sound.
However, unlike Netflix, Tron empowers any user to host digital entertainment content on their blockchain. The audience, from all over the world, can pay creators so they can enjoy the content—all without rewarding the middleman.
Part of Tron's goal is to wrestle away content control from powerful corporations.
Tron Price Predictions For 2019
What's New with Tron?
Speaking to Tron's viability as a network and platform, the organization has recently embarked upon a partnership with Samsung.
With Tron's infrastructure being integrated with Samsung phones, users can perform validations for financial institutions, for instance.
This partnership plug has seen Tron experience a significant surge on the market, recently jumping up 30% in price.