Our cryptocurrency classes can help you maximize your trading profits. Get started for free today!
An Introduction to Tether (USDT)
Bridging the Currency Gap
The roots of Tether stem back to January 2012, when a white paper was published by J.R. Willet. This acted as a catalyst in the development of the cryptocurrency called Mastercoin. Then, the coin was rebranded to Omni in 2015. 
Through the Omni Layer Protocol, Tether is issued on the Bitcoin blockchain and was initially known as Realcoin when it was announced in July of 2014. In November of that same year, the Tether name came into play.
Then, come January 2015, Tether (led by CEO Jean-Louis van der Velde) was being traded on the Bitfinex crypto exchange.
Tether's mission was to bridge the gap between fiat currencies and cryptocurrencies. The intent was to offer stability and transparency while charging users minimally for transactions. It maintains a 1:1 ratio with the US dollar.
Unfortunately, a recent negative story has taken Tether's narrative out of its own hands.
The Current Price of USDT/USD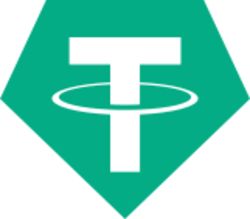 Tether (USDT)
Price
From Stable to Rickety
At the end of April this year, Tether was involved in a scandal.
According to the New York Attorney General's office, Bitfinex (who shares a parent company with Tether) allegedly took collateral from Tether to cover-up $850 million in losses.
It's a complicated mess with implications of collusion, and the effects could be grand scale.
This turn of events is significant because up until this point, Tether possessed a rare distinction for a crypto company:  it was systemically significant.
Tether's dollar-backed stablecoin (called USDT) recently had a market capitalization of $2.8 billion. And it was being used with increasing regularity as a prominent source of liquidity for worldwide exchanges and traders.
With the collusion allegations at hand, Tether has now officially acknowledged its absence of full collateralization with cash and cash equivalents. Meaning, the company currently operates with a "fractional banking" model – much like traditional institutions.
While that isn't a bad thing, there was already plenty of mystery surrounding Tether. Operating like a bank (which goes against a lot of crypto's principles) is sure to raise investors' eyebrows.
Tether Price Predictions For 2019
Tether Still Rising Up the Ranks
As of this writing, Tether has displaced Bitcoin Cash for the fourth spot on the market. It has a market capitalization of $4.2 billion and a trading volume of $35 billion.
However, it's believed that Tether's stay at fourth spot won't be permanent. Investors are using it as a token hedge in an underperforming market.
With the collusion case involving Bitfinex and Tether at the forefront, the future of this crypto-asset is anything but stable.