Follow professional traders as they navigate the cryptocurrency market and make profitable trades; start our trading course for free today!
An Introduction to EOS
A Crypto-Asset for the People
Having launched on January 31st, 2018, the bulk of EOS's creators still choose not to identify themselves. However, the credit of its founding is often given to Dan Larimer, an industry veteran. Current ownership is credited to the block.one organization, a company registered in the Cayman Islands, which raised over $4 billion, in 2017 (a record for an ICO).
EOS deems itself the most robust infrastructure of all decentralized platforms. Based on a blockchain, EOS enables the development, hosting, and execution of commercial-scale decentralized applications (dApps).
While there's no fully fleshed form of EOS, it has made an impact with its support of core functionalities. Thus, the platform provides the technology that makes it possible for businesses and people to develop blockchain-based apps with process resembling that of web-based apps.
The Current Price of EOS/USD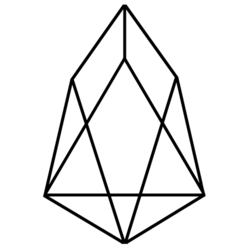 EOS (EOS)
Price
The Unique Features of EOS
As a platform, EOS offers the following features:
Permissioning
Usage management
Communication between the dApps and internet
On top of that, EOS's web-toolkit for interface development streamlines the app development process.
The founders of EOS have created what amounts to the crypto market version of Google's Play Store or Apple's App Store.
The Nuts and Bolts of EOS
Here's a breakdown of the two main components of the EOS ecosystem:
EOS.io: 
Bares resemblance to the operating system of a computer
Manages and controls the proprietary blockchain network
Applies blockchain architecture to mass scaling of decentralized apps
EOS Token: 
The proprietary cryptocurrency of the network
Eligibility to use network resources and build dApps necessitates developers holding onto coins (instead of spending them)
Those holding tokens but not running apps can allocate/rent bandwidth to other users 
The Pain-Point Problem Solver
While many blockchains facilitate decentralized applications, it's not with the same attention to detail as EOS. The company's entire purpose revolves around soothing prevalent blockchain pain-points, such as any issues involving speed, scalability, and/or flexibility.
Whereas many blockchain-based systems tend to bottleneck in the face of the obstacles mention above, EOS.io aims explicitly to offset these factors.
One (of many) features that are unique to EOS is its use of delegated a role-based permissions concept that optimizes flexibility when making lightning-quick high-level decisions. So, situations such as rollback, freezing, and bug fixing of broken apps, can be resolved quickly and efficiently amongst designated stakeholders.
EOS Price Predictions For 2019
Despite Recent Struggles, the Outlook Seems Sunny for EOS
As of this writing, EOS reported a 27% dip within the past week. Though the platform is expected to surge up to $3 by the weekend.
Overall, EOS has had a good year and spent much of 2019 sitting pretty. A significant number of investments into global crypto enthusiast outreach has helped EOS carve a noteworthy niche.
With that in mind, there's a strong feeling that EOS may start recording progress in the coming months.