Maximize your trading success by joining our cryptocurrency course today. Start for free!
An Introduction to Cardano (ADA)
The Crypto Platform Backed by Science
Cardano's entire identity is based on a scientific approach that claims to learn and improve upon the mistakes of other blockchain projects.
The incomplete platform has been in development since 2014. It's in a perpetual state of upgrade.
This innovative platform is developed by researchers and scientists. Each development step has been logged and peer-reviewed before being integrated into the entire platform. Cardano has been in development since 2014 and has not yet been fully developed.
Given that Cardano seeks the feedback of customers and is willing to adapt to the market as it goes, evidence suggests it'll end up being a viable entity.
Three main forces are responsible for Cardano: The Cardano Foundation, Input Output Hong Kong, and Emurgo.
The Current Price of ADA/USD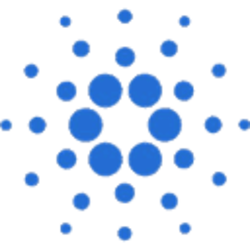 Cardano (ADA)
Price
A Double-Layered Platform
The two layers interspersed throughout the network are the Cardano Settlement Layer (CSL) and the Cardano Control Layer (CCL).
Here's a brief breakdown of both:
Settlement Layer: 
Transfers transaction information, such as:

Amount info
Remitter info
Recipient info
Transfer time info

ADA, the currency on Cardano is transferred on this layer.
Control Layer:
Processes account data, such as:

Smart contract data
Digital identity data
By separating these layers, Cardano's updates are carried out separately and individually. Double layering also bolsters security efforts because hacking one layer won't hinder the other in any way.
The Third Generation Blockchain
Going head-to-head with Bitcoin and Ethereum, for instance, Cardano blends the principles and methods of both platforms.
With Cardano's development of DAOs and dApps along with its peer-to-peer transaction system, this platform is a third-generation powerhouse. Due to their highly reputable scientific method, the brilliant minds at Cardano might end up catalyzing the legalized use of cryptocurrencies at an international level.
What's more? The ADA is already compliant with legal regulations throughout numerous countries.
Cardano Price Predictions For 2019
Despite Support from Binance, Cardano Has Yet to Make a Splash
Binance.US announced its full support of Cardano's ADA. Unfortunately, this hasn't led to any positive impact on the market. The platform is currently in the throes of a recent 17.47% drop. All while the ADA is presently valued at $0.03648, its lowest point since December 2018.
Though there's some good news for investors. The Cardano Testnet has been launched as of this writing.